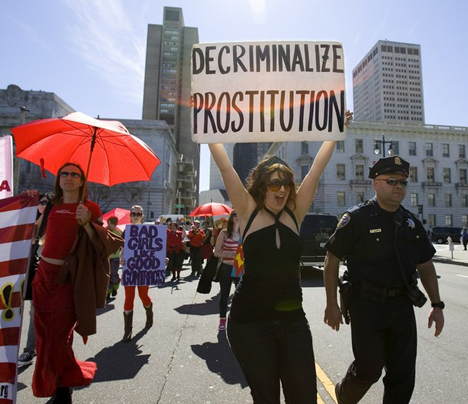 This entry really isn't so much absolute commentary as it is a thought exercise and an invitation to discuss said topic.
My knee-jerk reaction has always been that prostitution is wrong. I certainly believe that whatever consensual adults decide to do is between them, but sex workers are often the victims of trafficking or are exploited by those who take advantage of their lot in life and manipulate them into an indentured servitude of sorts.
Of course, this isn't all sex workers. Many women (and men, of course, but mostly women) simply choose this line of work because it works for them. They're content with what they do.
One significant problem arising from our prevalent anti-prostitution sentiment in this country is that we tend to demonize sex workers. We "slut-shame" them. We call them "whores". We blame them if they're the victims of rape or sexual assault.
This doesn't strike me as fair in the least. Ideally, neither party (customer or sex worker) should be blamed or shamed for engaging in a consensual, safe activity. Of course, this only pertains to those who aren't married or otherwise committed.
The legal penalties should only be placed on those who manipulate and abuse sex workers.
But honestly, how would this be regulated? I don't think it's impossible, but I honestly have no idea how that system would look.
A few counties in Nevada have legalized prostitution at licensed brothels. Sex workers are paid handsomely and receive constant medical monitoring. Contraceptives are required. But how is it certain they're not being forced into it?
I'm honestly not asking this question as an attack. I'm genuinely curious if it's possible to have a system of impartial oversight that ensures sex workers aren't victims. Would that include mandatory psychologists and social workers on staff at brothels?
I also realize this may come off as condescending to sex workers who have had a good experience in their line of work, and I do admit that I'm ignorant of the culture.
But these questions need to be asked. Sex trafficking is a troubling issue. It's generally assumed to be a "third-world" problem, but it's prevalent in the United States and other developed countries, as well.
Overall, I'm torn. I believe that feminism is about individual choice and freedom, provided the individual is educated on the options available to them. This should mean that women who choose to go into prostitution shouldn't be hassled or looked down upon.
But let me know you think. I'm interested in hearing different opinions.